'Kickstarting' Your Book Project:
Crowdfunding "The Breast Cancer Checklist"
by Fern Reiss, CEO, PublishingGame.com/Expertizing.com
With my new book, 'The Breast Cancer Checklist' (http://www.BreastCancerChecklist.com) coming out in National Breast Cancer Awareness Month, it seemed the perfect time to run a 'Kickstarter' campaign .
For those of you who have been living in a closet and haven't heard of it, Kickstarter, IndieGoGo, and their plethora of look alikes, collectively known as crowdfunding, are the new way creatives (filmmakers, artists, musicians, and authors) are funding their projects. Although the interface is new, the concept is early Renaissance, aka patronage: Donors support the artists who would not otherwise have the time or materials to pursue their art. Crowdfunding's twist is offering 'rewards' for different contribution levels.
Although so far crowdfunding has proven more successful in funding films and music, rather than book projects, it could provide an answer to authors' funding and publicity conundrums. Here are the top ten things I've learned on how to do a successful crowdfunding campaign:
Plan the campaign
A cursory glance of the top crowdfunding sites reveals which projects were planned well in advance, and which were cobbled together at the last minute. A good campaign involves several time-consuming components, and can't just be pulled out of thin air. If you decide to do a campaign, make sure you're not painting yourself into a corner with an artificial deadline—everything will take longer than you think. We wanted to launch just before National Breast Cancer Awareness month in October, so our entire campaign was geared around that target—but we started pulling it together back in January.
Do the paperwork first
Before you can launch a campaign, you need to sign up with a payment vehicle: Amazon (on Kickstarter), PayPal Premier (on IndieGoGo) etc., so that patrons have a mechanism by which to fund your project. You do it online, and it can take as much as a week or longer to navigate the financial side of the project—so be sure you start early with the paperwork.
Create good back-up—ie, a website
Authors/publishers will benefit from a website that supports the campaign. This is particularly true if you're using Kickstarter, where if you generate more money than targeted you keep it; but if you don't meet your target financial goal in the time you've allotted, no money changes hands. So a website is important, if only so that, if the campaign fails, interested people can still find you and buy your book. You can use many of the same components (including the video) for the website that you use for your campaign—see http://www.BreastCancerChecklist.com.
Create a good 'nutshell description' of the project
You need a short pithy description of the project. Mine was: "The Breast Cancer Checklist" is an easy-to-use guide with checklists for what to do before, during, and after breast cancer surgery, chemotherapy, and radiation." Nothing fancy, but describes what the book is about.
Think creatively about prizes
Most of the rewards artists offer are the items themselves—the book, the game, the CD. But if you think more creatively about your project, you'll be able to come up with other ideas that might generate more (funder) excitement. For example, I not only offered rewards related to the book (a copy of the book, your loved one's name in the acknowledgements of the book) but also rewards related to my expertise (an hour of publishing consulting, a slot in my Expertizing.com publicity forum, etc). And I also offered something just for people who might not have an interest in breast cancer, but might be curious about crowdfunding: A weekly commentary on what worked, and what didn't work, about my campaign. So think widely about your project, and see if you can come up with unusual prizes that will draw in a range of supporters.
But don't neglect prize-related expenses
Offer creative rewards—but don't offer things that will cost you more money than you're generating. There are projects whose originators may be up the creek if they're funded, because they've promised to mail t-shirts—for just $5 donations. And remember to specify that international shipping will cost extra, or you'll be using your profit margin to mail to Guatemala.
Don't neglect the video
Most crowdfunding sites don't require a video, but most successfully funded projects have one. That said, the video doesn't have to be professional: It just has to be compelling. Funny works especially well if you have a subject that lends itself to humor, but drama can also work.
Include good graphics and details
Again, these don't need to be fancy, just interesting. I included actual checklists from the book—on surgery, reconstruction, medical insurance, diet and exercise, working through treatment, complementary treatment, telling family and friends, post-surgery, infusion port, chemotherapy, radiation, prosthesis, herceptin, tamoxifen, lymphedema, and post-treatment, with items ranging from 'Make a dental appointment because your immune system will be compromised' to 'Avoid grapefruit and echinacea, both of which interfere with chemotherapy'. Details sell books—and also campaigns.
Respect copyright
This may seem obvious, but you can't use (ie, steal) other people's artwork, music, photographs, etc for your project page or video. Use the royalty-free (and preferably free) sites to craft your materials.
Use social media
Needless to say, the best way to publicize (and fund) your project is to work the heck out of social media. Mention your project (repeatedly) on Facebook and Twitter and LinkedIn. Blog about it. Write articles about it (like this one :*) Ask friends to tell other friends. The more you spread the word, the more the word will spread.
Two more caveats before you plunge in: Read the terms very carefully before you begin. Despite the fact that October was National Breast Cancer Awareness Month, and that one in eight women will suffer from breast cancer during their life, Kickstarter rejected our campaign for "The Breast Cancer Checklist" because they don't allow 'personal care products' (which we'd thought meant soap) to be funded.
The second caveat concerns the funding audience. Crowdfunding, at least for authors, and at least so far, works best by drawing on your own list: The majority of publishing projects are funded by friends and family, and the percentage of strangers contributing is minimal. Given that fact, it's not clear whether working through a crowdfunding platform, where you're paying approximately 10% in fees, is worthwhile. When we ran the numbers, it seemed clear that the convenience of Kickstarter et. al. wouldn't compensate for the lost ten percent, nor would the additional random funders we might pick up necessarily cover the loss. In the end, we ran the campaign off our own website—and at least so far, monetarily, that's looking like the right decision. And the other key advantage of running the campaign from our own site, rather than one of the crowdsourcing platforms, is that we retained all email addresses and contact details—information you don't get if you run the campaign on someone else's site.
It's too early to know if Kickstarter, and sites like it, will prove a panacea to a languishing publishing industry. But crowdfunding is the new hot way to get the word out about your book—so it's worth a try.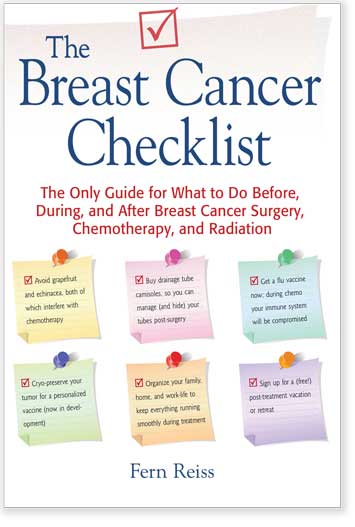 ---
Fern Reiss is the author of "The Breast Cancer Checklist" and seven other books, including "The Publishing Game" series on how to publish and promote your book. You can find "The Breast Cancer Checklist" in bookstores, via Amazon, and at http://www.BreastCancerChecklist.com.
Copyright © 2012 Fern Reiss